Area around Stavenisse
Flood museum in Stavenisse
The Watersnoodhuis is an information center in Stavenisse about the 1953 flood disaster on the Zeeland islands of Tholen and Sint Philipsland. More information can be found on the website of the Watersnoodhuis (Website is only available in Dutch).
Beach Stavenisse
Many people visit Stavenisse for rest and water sports. The village has a pleasant beach. The beach is located just behind the harbor. The beach is easily accessible on foot or by bicycle. You walk behind the Molen van Stavenisse and continue for 500 meters. The cycle path runs along the harbor and ends at the beach of Stavenisse.
For a larger beach you have to go to the Havenweg in Sint Annaland (7 km).
Cycling, walking
Stavenisse and its surroundings are very suitable for people who want to cycle or walk. There is an extensive bicycle network on the Tholen peninsula. Cycle along the Oosterschelde to Sint-Annaland. There is a paved cycle path along a large part of the Oosterschelde. There are also plenty of other cycling routes along old farms and beautiful dikes. All distances are possible with the cycling nodes network. These cycle paths are also ideal for hikers. Plan your route yourself or choose a ready-made route.
Harbor
If you want to visit Stavenisse by boat, that is also possible. Stavenisse has a quiet but pleasant harbor. The marina is equipped with all facilities. Passers-by from the port can report to the harbor master. The harbor offers ample parking for day trippers. More information about the harbor can be found on the website of the Sportvissers- en Watersportvereniging Stavenisse. (Website is only available in Dutch).
Dive sites
Stavenisse offers several unique diving locations. The best known is at "the Stavenisse jetty". You will find beautiful algae, oysters and many other sea plants and animals here. This dive site can be found at ferry route 18.
Golf course
Akkermans golf course is 22 km from Stavenisse. It is a 9-hole par-3 course. For a fee you can play golf or book a clinic. For more information, please visit the Akkermans website. (Website is only available in Dutch).
Sloop rental
At the same company Akkermans you can also rent a sloop to sail around Steenbergse vliet and surroundings. See the Akkermans website for more information. (Website is only available in Dutch).
Farmer's golf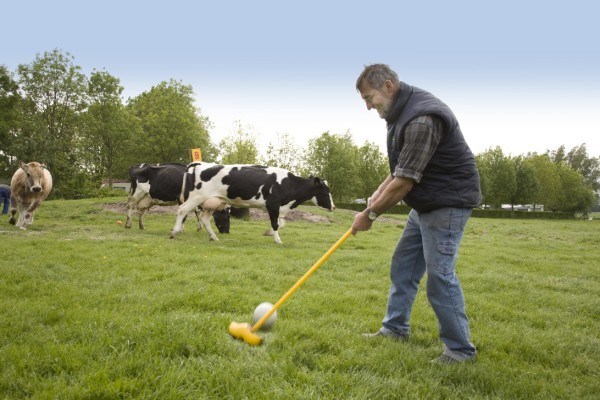 Farmer's golf and other activities at the Koelhuisdreef in Sint-Annaland. (7 Km from Stavenisse). For more information see the website of Ssvprinsesjuliana (Website is only available in Dutch).
Map
The previously mentioned activities are mapped on this map.